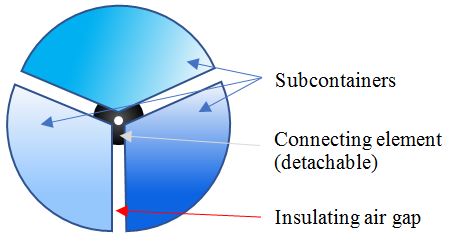 The contribution to environmental protection is guaranteed by the fact that the innovation helps to conserve energy and resources through its following characteristics.
- Multi-chambers in one container: enables the reduction of the produced/consumed
Number of containers,
- Portioning: enables less residual food and waste to be disposed of  and thus comply with the EU requirements regarding the plastics ban as of 2021.
 The production of the containers is accelerated due to the lower use of materials, which results in lower energy consumption and reduced CO2 emissions.
 The multi-chamber container is an innovation from Lower Saxony to support consumers, industry and society, to minimize ecological, hygienic and economic difficulties and to realize competitive advantages, prosperity and new jobs.
 In terms of sustainability, the innovation will create several sustainable jobs in many regions in the world. 
Patent' situation:

DE 102017006857

International PCT/EP2018/065119  

E-Mail:

This email address is being protected from spambots. You need JavaScript enabled to view it.

Stade developpment:

Early Prototype

Telephon:

+49 53138942990 

+49 15732937916

Manager

Celestin Fayet

Sielkamp 30,

38112 Braunschweig