even reach C02 limits.
In a detailed examination sponsored by the Federal Ministry of Economics, the Inventors' Centre for Northern Germany in Hanover has forecast the sales potential of the EFFIBOTTLE® multi-chamber container in Germany alone in the six to seven-digit range can be sold in Germany each year.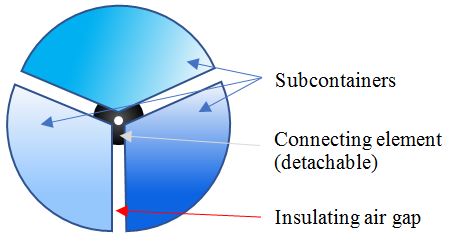 Market
In 2008, a total of around 3.06 billion beverage cans were sold in Germany. These were predominantly beer cans. In 2006, a total of around 23 billion beer cans were sold in Europe. According to Wikipedia, the circulation of PET bottles in Germany in 2003 was estimated at around 800 million units of 1.5, 1 and 0.5 litres. With the introduction of the mandatory deposit on defined one-way drinks packaging on 1 January 2003, there was a sharp increase in circulation quantities.
There is currently no reliable information available on the current quantities in circulation. The figure of 800 million PET bottles is also confirmed for 2009: according to media reports (http://www.verpackungsbarometer.de/fuer-verbraucher/haeufig-gestellte-fragen3/wie-viel-rohoel-brauchen-wir-pro-jahr-fuer-pet-getraenkeflaschen2), around 800 million PET bottles were in circulation in Germany in 2009. By 2024, sales of reusable water bottles will have grown on average by more than four percent per year, to 10.2 billion dollars (Süddeutsche Zeitung of 2.7.2017).
The market potential represents the maximum possible sales of the company's own products or possible substitute products, since no official figures on production and sales figures are available for the respective markets, it must be argued with the help of the market potential.
Based on 3.06 billion beverage cans sold (23 billion throughout Europe) and 800 million PET bottles in Germany per year and a market share of 0.001%, EFFIBOTTLE's sales in Germany could potentially be in the six-digit to seven-digit range. A possible revenue-dependent license rate is approx. 1-2.5 %, which is calculated as own revenue from business activities.
Target group
Our EFFIBOTTLE, which is intended primarily for storing liquids and powders, is a product from the field of "food technology" (canning, packaging) that belongs to the nutrition/health sector. Specific users are food, beverage and cosmetics manufacturers and the pharmaceutical industry in Europe and the USA.
Patent' situation:

DE 102017006857

International PCT/EP2018/065119  

E-Mail:

This email address is being protected from spambots. You need JavaScript enabled to view it.

Stade developpment:

Early Prototype

Telephon:

+49 53138942990 

+49 15732937916

Manager

Celestin Fayet

Sielkamp 30,

38112 Braunschweig