EFFIBOTTLE® - Innovative multi-chamber container for efficient storage/conditioning and thermal separation of various media (liquids, powders, particles, creams and the like), with ecological, hygienic and economic advantages. 

Our patented innovation and future developments are production- and resource-efficient multi-chamber containers, in particular drinking or thermal bottles, storage containers or cans for the consumer sector with several chambers, each of which has its own chamber opening, in order to optimally enable demand-oriented portioning and simultaneous transport of hot and cold beverages in the same container. The disposable mentality is generally strongly criticized and the demand for intelligent packaging as well as healthy and fresh beverages in smaller units is greater. Our EFFIBOTTLE® will be an interesting and sustainable packaging solution.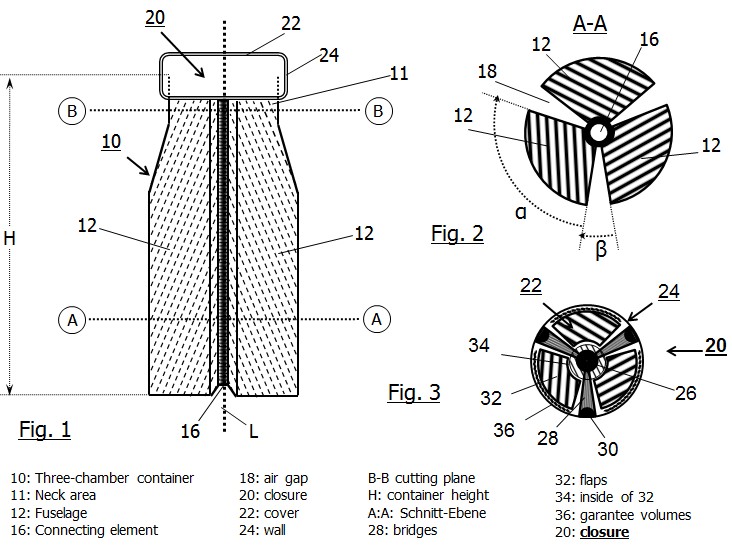 Figure1: Fuselage of the three chamber container - Figure2: fuselage'cutting plane A-A -  Figure3: closure's lower view
The EFFIBOTTLE® container consists of at least two partial containers (chambers), which, depending on the application, can be partially or completely - even thermally separated (insulated) - for the storage of..:
- Liquids,
- Food, such as beverages, sauces, powders, etc.
- Cosmetics, such as shampoos, hair strengtheners and creams
- pharmaceuticals
- chemical substances and/or
- other substances can be used.
Possible application fields would be:
Bottles for the beverage industry

Bread cans, bottles and containers for food (industry)

Chemicals (-industry)

Bottles and containers in the pharmaceutical industry

kitchen containers 




etc.
The newly developed multi-chamber container will in future be made of various materials such as ceramics, plastics, stainless steel or aluminium. Furthermore, material combinations (alloys) of different materials are possible. The selection depends on the desired application and in particular on the desired mechanical stress. The advantage of plastic variants is the relative simplicity of the processing methods (injection moulding, extrusion and/or injection blow moulding). The products are also manufactured using various manufacturing processes, including welding, gluing and/or milling.
Patent's situation:

DE 102017006857

International PCT/EP2018/065119  

E-Mail:

This email address is being protected from spambots. You need JavaScript enabled to view it.

Stade developpment:

Early Prototype

Telephon:

+49 53138942990 

+49 15732937916

Manager

Celestin Fayet

Sielkamp 30,

38112 Braunschweig