containers. This makes it possible to carry different liquids such as tea, water and coffee in one container. The other advantages and unique selling points affect the topics: Conservation of resources, reduction of packaging waste, raw material efficiency, freshness / hygiene of food as well as perishable substances and the reduction of food waste. In the medium term, it is intended to produce the multi-chamber container with bioplastics/renewable raw materials.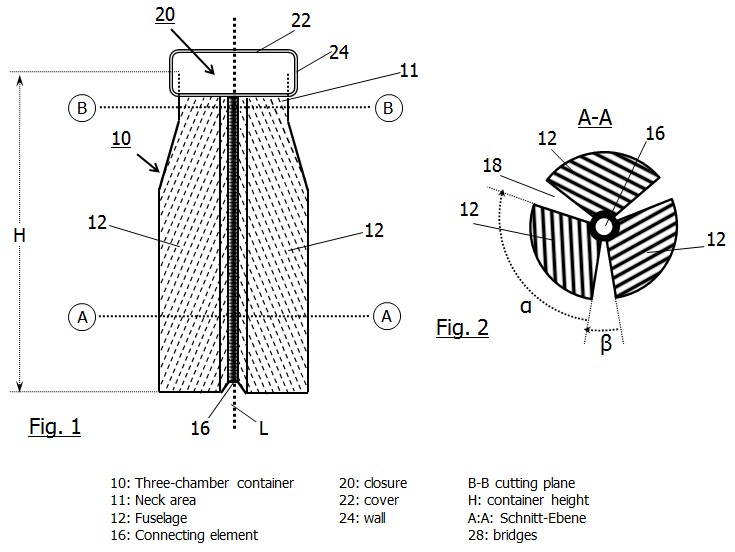 Fig.1: three chamber container's fuselage - Fig.2:sectional view (cutting plane A-A)
EFFIBOTTLE® - Multi-chamber containers will help consumers to feed themselves healthily and resource-efficiently by enabling them to portion their beverages or food more optimally and in line with demand in the future. It will be possible to carry different foods or beverages in large quantities, without special restrictions, with you at all times or to take them with you on the way. Foods with different temperatures can be stored and transported in the same container.
 A further advantage of the invention is the protection of freshness, which is achieved through lower content quantities and thus shorter storage times after opening. A further advantage is environmental protection, which results from lower content losses due to spoilage.
 The innovative container together with the flap system was registered for patenting at the DPMA in July 2017. An international patent application was finally filed on 08.06.2018 and 27.18.2018. A total of 16 patent claims are claimed. The decision of the German application is expected at the end of 2019.
 In order to ensure a unique selling point in communication and marketing, the EFFIBOTTLE® trademark was filed with the German Patent and Trade Mark Office on 27 March 2019 and registered in the DPMA Trade Mark Gazette on 11 April 2019. In addition, 12 national and international top-level domains (com, net, org) for the trade marks EFFIBOTTLE® and EFFI-BOTTLE were secured.
 EFFIBOTTLE® - The inventor/developer Mr. Celestin Fayet completed his studies at the TU-Berlin with the title Dipl-Ing. in the field of mechanical engineering. He is also certified as an expert for  quality management (DGQ quality System manager), process optimization (Six Sigma Black Belt), project management (Ipma-Gpm) and Business manager. His range of services includes: Concept development (steel and plastic materials, QFD, D/P-FMEA...), CAD designs (Solidworks), mechanical strength and flow simulation analysis  (FEM - CFD), product and process optimization, quality management (assurance, control, problem solving, complaint (8D-report)...) and project management.
Patent' situation:

DE 102017006857

International PCT/EP2018/065119  

E-Mail:

This email address is being protected from spambots. You need JavaScript enabled to view it.

Stade developpment:

Early Prototype

Telephon:

+49 53138942990 

+49 15732937916

Manager

Celestin Fayet

Sielkamp 30,

38112 Braunschweig